ZOOM Readings
To arrange a sitting via ZOOM contact Val by email for details.
Meditation CD's by post
Meditation is merely the art of focussing something very important to the individual - some people are able to meditate in absolute silence , but for those who cannot I have made a variety of meditation CD's - each one is a guided meditation with a musical background.
Each CD is different in context but the outcome is the same - to enjoy a time of meeting with a Spirit loved one or friend, or iin some cases a Guide and helper - truly enjoyable journeys from which you will come back feeling refreshed.
Each CD costs £8 plus £2 postage and packing for DELIVERY IN UK ONLY (total cost £10)
*AVAILABLE FOR SHIPPING OUTSIDE THE UK - PRICE ON REQUEST, Please contact Val before ordering.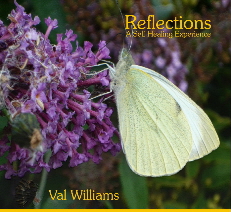 Reflections - A Self Healing Experience
Track One - Heal yourself in a very conscious way. Bring healing to your physical body whenever you choose to. YOU CAN DO IT.
Track Two - Revisit past issues, face them, let them go and know the future will not be affected negatively by past issues.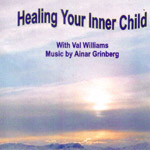 Healing your Inner Child
Track One - Healing your Inner Child: A meditation journey to help you face your fears and overcome them.
Track Two - A Fresh Start: A spiritual opportunity to meet a guide who will help you to face your future.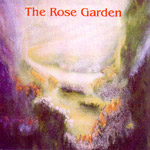 The Rose Garden
Track One - On the Beach: A meditation journey taking you from a beach to a rose garden - experience meeting a loved one.
Track Two - Bus Journey: Experience meditation and visualisation exercises see and feel the presence of a loved one.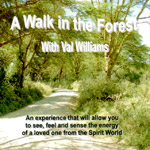 A Walk in the Forest
Track One - An experience that will alow you to see, feel and sense the energy of a loved one from the Spirit world.
Track Two - A meditation journey which will allow you to experience all your spiritual senses and encourage you to meet your Spirit Guide.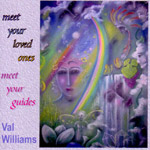 Meeting Your Loved Ones and Guides
Track One - A meeting with loved ones to bring you peace.
Track Two - A Fresh Start: A spiritual journey to meet the guides who lead and protect you.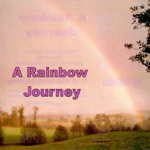 A Rainbow Journey
Track One - A Rainbow Journey: A meditation Journey to give peace and emotional closure. In memory of Norbert.
Track Two - Empowerment: Use your breathing to help you overcome your doubts and fears.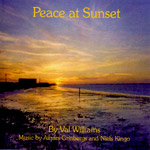 Peace at Sunset
Track One - Peace: Letting go of loneliness - know you can communicate with your loved ones.
Track Two - Freedom: Connecting with nature, loved ones and guides to bring you joy for your future confidence.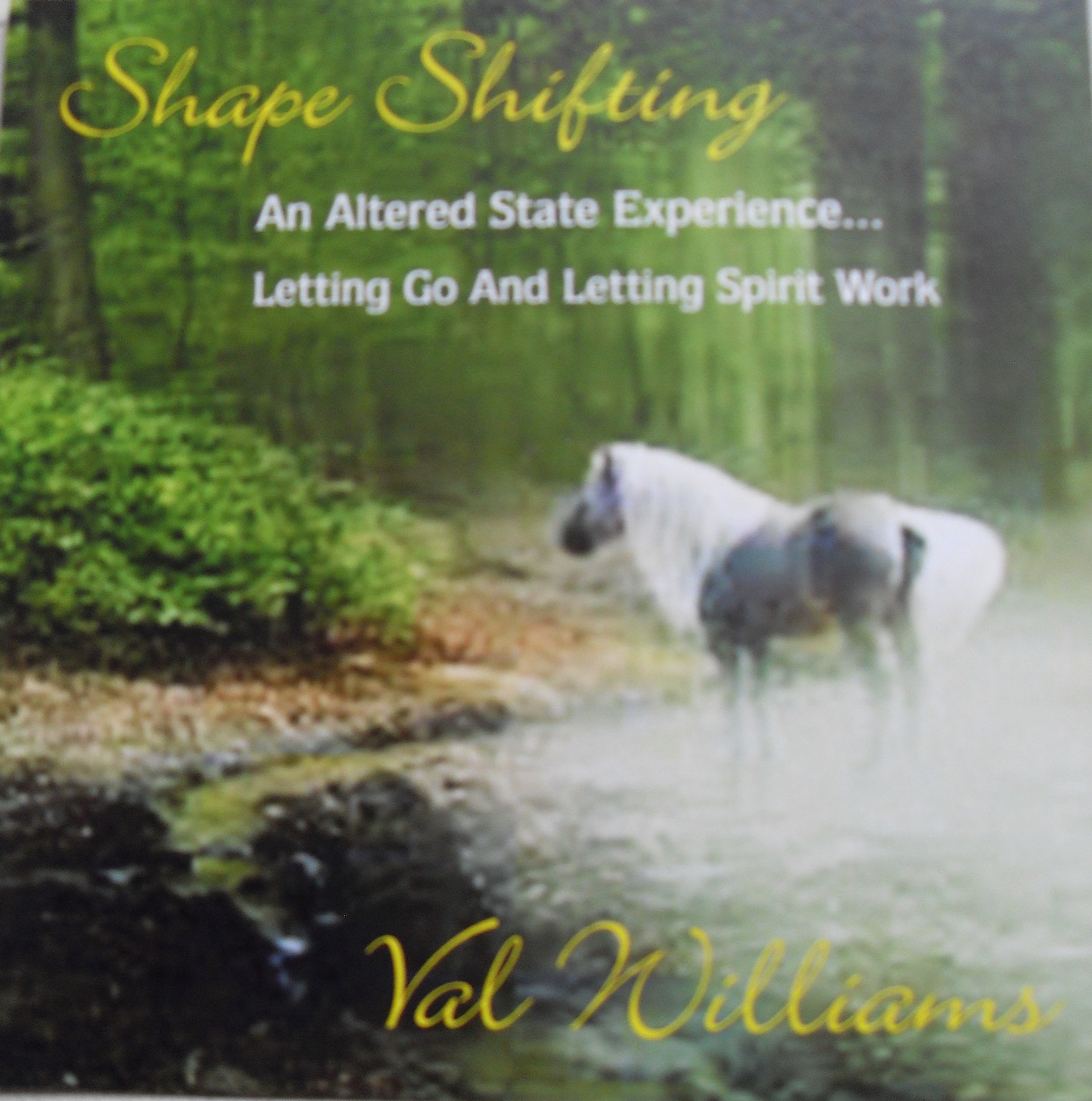 Shape Shifting - An Altered State Experience
Track One - A BIRD OF FLIGHT: Releasing the I, trusting Spirit more, experiencing total spiritual freedom.
Track Two - TRANSFORMATION: Deeping the altered state, releasing self and letting Spirit work.
Meditation CD's by Download
CD's are now available to download via LISTENING2SPRIT at a cost of £10 per CD or buy the complete collection and you will receive a 10% discount - giving you a saving of £8.
Books
"Two worlds as one" is a book I was inspired to write - and many mediums told me I WOULD write - many people contributed to it coming into being. Steve and Penny who originally helped and pushed me along, Pete Finlay who designed the cover and penned a couple of cartoons as illustrations, and many friends who allowed their stories to be told - I am grateful to them all.
The book has helped many people to understand mediumship, the Spirit world, and has helped them to accept that their loved ones had to leave when they did.
All the stories are true and can be verified - it is simply written in order that everyone can understand the truth of Spirit return.
"I felt as if it was you telling your stories, that you were in the room with me" and "I couldn't put it down once I started to read it - I stayed up all night"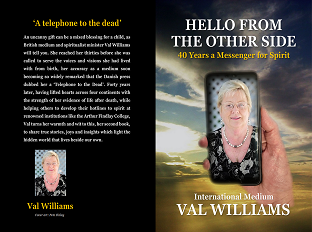 Hello From The Other Side
An uncanny gift can be a mixed blessing for a child, as British medium and Spiritualist Minister Val Williams will tell you. She reached her thirties before was called to serve the voices and visions she had lived with since birth, her accuracy as a medium soon becoming so widely remarked that the Danish press dubbed her a 'Telephone to the Dead'. Forty years later, having lifted hearts across four continents with the strength of her evidence of life after death , while helping others to develop their hotlines to Spirit at renowned institutions like the Arthur Findlay College, Val turns her warmth and wit to this, her second book, to share true stories, joys and insights which lightthe hidden world that lives beside our own.
Signed copy £9.00 plus £3.00 for posting and packing UK ONLY.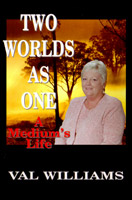 Two Worlds As One
Widely applauded for her strong gifts of communication with spirit, Val Williams has for years delighted audiences across the globe with her inimitable window on the world unseen. In this, her first book, she charts the often tumultuous path of a working medium, illuminating along the way the hidden world which ultimately concerns us all. Join Val as she draws back the curtain, with characteristic wit and aplomb, on two worlds as one.
Price is £7.50 including post and packing UK ONLY -
overseas postage available on request.
NOW AVAILABLE FOR KINDLE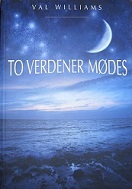 To Verdener MØdes
Danish Translation of Two Worlds AS One.
KR 150 including post and packing.
BOOKLETS OF INSPIRATIONAL POETRY
Spirit inspirers gave me poetry as long ago as 1980 - this was when they really wanted me to know they were around and wanting me to work for them. I had never been able to write a poem but the words flowed so quickly I could barely write them down quickly enough. People use them for their own personal use - people who give readings in Spiritualist churches have asked permission to use them prior to the address being given on sunday evenings.
Many people have bought them because they say the words bring comfort, understanding and "they are cheaper than a card" - each booklet has many poems in - truly something for everyone.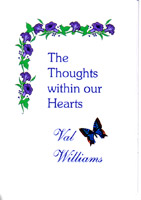 The Thoughts Within Our Hearts
£3.00 including postage and packaging.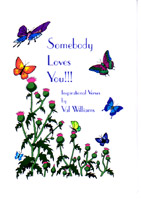 Somebody Loves You
£2.70 including postage and packaging.